The abstract is the most important part of any research paper. It's a summary that gives an overview of what your research is about and why it matters and how it contributes to knowledge, but it also needs to grab readers' attention and make them want to read the whole thing. An abstract is an autonomous, brief, and intense declaration that describes the work with enormous scope. Its components differ by the discipline of the project. You have to give a concise view of your massive project in the abstract. In this blog post, we'll discuss its meaning, types, and how to write an abstract for a research paper.
What is an abstract?
An abstract is a succinct summary of a research paper that gives its main ideas and often includes details on how the study was conducted. If you're conducting research, the abstract will summarize your study and will provide key information such as the problem being addressed, what methodology to be used in your study, how many subjects are enrolled, and what you expect to find in terms of results.
An abstract is the most essential element of every research work either it is a thesis, dissertation, or any other. The abstract gives a concise view or a brief description of a larger project. It is a powerful, short, and independent declaration that describes the enormous scope of your paper.
What to Include in an abstract for a research paper?
Students have to take care of some basic mistakes, which students mostly do while writing an abstract on paper. You should not draw any sketch, diagram, flow charts, and pie charts in your abstract. As of now, at this point, it must be very clear in your mind that abstract is the descriptive information of your project, which you write in a summarized form.
Your abstract should include all the contents of the project, along with its scope.
It should also describe your finding, methodologies, objectives, and conclusion.
Commonly searched keywords are also be added in your abstract, but they must be very relevant to your topic. Sometimes students just add keywords that do not have any link with their topic. This irritates the reader and left a bad impression on the mind of the reader.
The motive for writing an abstract is just for the readers so that they can know the objective of your topic. It should be very clear in the mind of the students that you have only to write a summary of the project. An abstract is just a description of your project. It should contain information about what you actually covered in your project and not elaborating your topic and project's content.
For your clear understanding, let me take an example if you are writing an abstract on dowry. In this, you will write about your survey research, investigation, and conclusion. You are not going to write why people give dowry, what dowry is, and other things related to it.
Read Also: Problem Statement In Research Paper
Types of Abstracts
As there are many types of abstract, so it becomes challenging for the students to choose the appropriate one for their project. The type of abstract that you are going to write will directly depend on the type of research work you are undertaking. So a complete knowledge of the types of abstract is beneficial for college students. And this would also help them to choose the correct one for their work.
So, here is an explained description of the types of the abstract. This would help you to choose the correct abstract for your project.
There are four types of abstract, as follows:
Descriptive abstract
Informative abstract
Critical abstract
Highlight abstract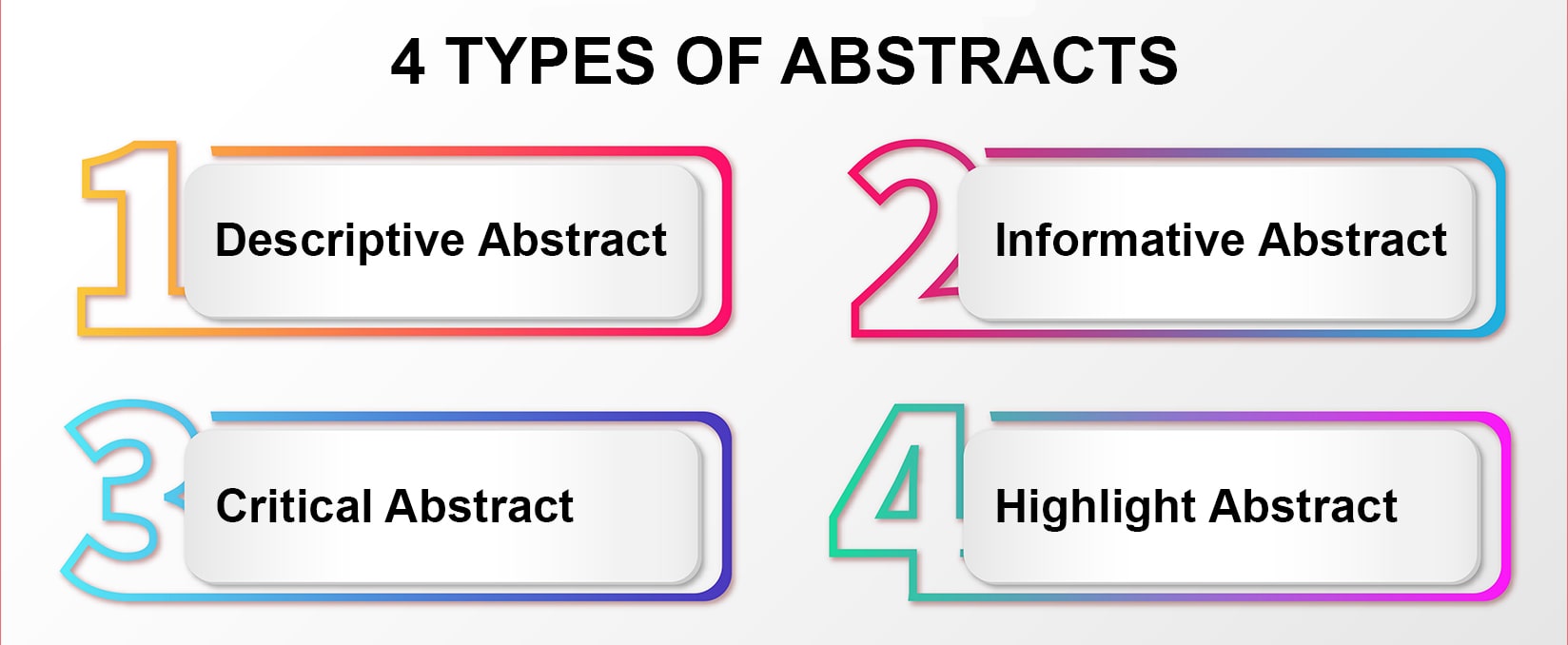 Now, in the further part of this section, we are going to give you complete information regarding each of the abstracts. This would help you to differentiate between the different types of abstract. And also help college students to choose the correct abstract for their project wisely. It would resolve the confusion of students about types of abstracts.
Descriptive abstract
A descriptive abstract is an outline of work. It may include the purpose, methods, and scope of research being summarized but does not make judgments about it or provide results/conclusions from the study.
In this type of intellectual, you are going to describe your summarized data. In this, you are not comparing it with other pages of your work. As the name itself suggests that you only have to describe the summary. Comparing this with other papers of your research is not part of a descriptive abstract.
After choosing the type of abstract, you must be very clear in your mind about what to write in it. If you do not take care of the rules and main points of each abstract, then it would completely change the type of abstract.
Informative abstract
The informative abstract is a summary of the paper that includes background information, research methods, and scope. The author should also include their conclusions in an informative abstract as well as important recommendations for future research so readers are better informed about the topic.
An informative abstract is the most common type of abstract being used by researchers. In this, students are going to describe the main arguments and the essential points of your project. The students explain the focused aspects of work and highlight them.
While focusing the mind of readers towards the main points, there are also some other points, which you can add on. You can write the conclusion of your project and the recommendation given by the authors.
Critical abstract
A critical abstract is a summary of the main findings and information in an article. It also provides a judgment or comment on whether this research can be considered valid, reliable, complete, etc., as well as comparing it to other works that have been done on the same subject.
In this abstract students are going to describe the main points, information, and findings. Along with this, they also add the comment and their judgment regarding the study's completeness and validity of the research.
In summary, critical abstract includes focusing on the main point along with comments and judgments of your study's reliability. With all this, you compare it to other papers of your works. Evaluation of your research is also done in this type of abstract.
Highlight abstract
It is rarely used in academic works. An abstract is written to attract the readers' minds towards your work. It must be very precise and attractive so that it can easily catch the reader's attention. As the name suggests, it must include the highly important points which you must want to highlight in your work.
There is not so much explanation regarding the highlight abstract; it just covers your highlighted aspects. The main aim of the student, who is writing this type of abstract, is that they just want the reader's attention towards their research work. The college student must keep it in their mind, that it is rarely used in their academic work.
Elements of An Abstract For Research Paper –
Although there are many types of abstract, there is one thing that is common for all kinds of abstract. So there will not be any big issue if one could not remember the differentiating point between all types of abstracts. Apart from differentiating features, if students only remember these elements, then this would solve their problem to a maximum level.
After knowing the elements of the abstract, college students can write an effective abstract, even if they do not remember the different types of abstracts. There are some differentiating features among each type of abstract, but on the other hand, there is also one common point among them. So it is crucial for students to remember these points at least.
All abstract must be present with 4 types of elements to the reader:
Objective
Method
Result
Conclusion
These are the common elements that are present among all of them. Before going to tell you about the writing skills for an abstract, you must know entirely about the aspects of the abstract.
Objective  
This section accounts for the first few sentences of the abstract. It aware the readers about the research you carried out in your work. An objective gives an account to the reader about the problem and issues you have been explored in the research work. It also includes the solution you studied for the issue. Along with all this, the writer also explains his inspiration for the project. But it must be kept in mind that it should not be too long and takes only a few sentences of the abstract.
Methods
After you complete your objective, it's time to move on to the next part of the abstract, i.e. methods. That means in this section of the abstract; you are going to write about the research methodology you used in your research works. You will write the steps of the methods, that are being used by you in finding the solution to the issue. And the steps of the process vary with your research topic.
For example
For the humanity project, you write the methods for the framework of your research.
In relation to the service project, the student will write the outline of services performed and processes followed by you.
So we can say that, regardless of the subject and field, in this part of the abstract you will write the methods you used to reach the final solution, result, and conclusion.
Result
In this, you will write the final outcome of your research work. It is self-explanatory to write the definitive answer to your work in this part. If the result is not completed yet, then you can add the theories regarding the probable outcome. The length of the result must be much specified; you must not write additional points in this part. Students must write the main points so that the outcome is clear to the reader and the length is not too long.
Conclusion
It is the last among the four elements of the abstract. Like in other paperwork, the conclusion is written in just a or two-sentence length where you would be summarized what you have written above in your project. In the abstract, the student will summarize the result in conclusion. While writing the conclusion, one question must be in your mind i.e. "what is the value of these results?". This question will help you to write the conclusion of the abstract correctly.
Note:- A brief introduction of not more than 2-3 sentences, is added before the objective. But this is only in the case of most extensive research works. In the majority of research work, we skip the introduction and directly start our abstract with the objective. Writing an introduction section before the objective, just acts as a brief description for the reader about what is being written in the objective.
So by knowing the elements of the abstract, students are clear about the format and sequence being used for writing it. It would help them to write an effective abstract and in a sequential manner. Elements must be present in every abstract.
Common Mistakes during Abstract writing
The most common mistake students do while writing the abstract is that they write it in the same way as they write their whole project. The style of writing the abstract is different from the rest of the paperwork. There are many points you should keep in mind while writing an abstract.
There are some points, i.e. elements, that must be included in your abstract, but on the other hand, some points must be avoided. The points, which are mentioned below must be avoided while writing an abstract:-
Informal language and the idioms
Symbols or abbreviations
Jargon
Figures, illustrations, images, graphs, or tables
Idioms
Unfinished phrases
It should be comparatively brief; the word amount should not be pumped up
Citations
Extended background information for which research paper is concerned, it should be brief
New data which is not included in the study article
Phrases such as "present research show" or "confirm studies."
Terms that may be confusing to readers
Unnecessary details which do not add to the abstract's general purpose
Steps that make your abstract writing perfect
At this stage, you are clear with the definition of abstract, along with its type and elements of abstract. Now it's time to know how to write an effective abstract. One should be very clear in his mind that their abstract will be understandable, convenient to read, and attractive to the reader. For an effective abstract, length is a very important factor. Your abstract should not be too long, and on the other side, it must contain all the essential points of your project.
Ideally, in the abstract, you attract the reader's mind towards the main objective of your project. And your topic would be evident in their minds through your abstract. So, one must focus on writing a useful abstract for a research paper. Your abstract will define the interest of the readers towards your research work.
Following steps that students must keep in their minds for writing an abstract:-
Step 1. Complete your research work
Firstly, complete your whole research work. Once you are done with your research work, then you are very much clear about what to write in your abstract. Above mentioned points, along with these steps, must be kept in your mind for writing an abstract.
After finishing your entire research work, it would automatically be apparent in your mind what would be going to write in your abstract. And you will describe your project in your abstract, in a very précised and concise manner. One should follow each step for good results.
Step 2. Make a list of essential points
Do not waste much time thinking about what to write and which point to write and how to conclude everything in just 2 or 3 sentences. Just read out your introduction and conclusion thoroughly. Then figure the essential points that you think you should add to your abstract. And write them out in your abstract. You have just to summarize your objective and conclusion in the abstract.  It is for the objective and outcome part of the abstract.
Step 3. Include methods and materials
College students must make rough notes of what they have done while completing their research work. The Research methodology or technique they used for the solution must be written on these rough notes. These notes further help them to write their method part of the abstract without any unnecessary headache and tension.
Once you write all the methods and techniques you have used for your work, it would be immensely more comfortable for you to write them in the abstract. As the method section, only include the process and methods. If you are writing illogical and unrelated points in this section would not attract the reader's mind at all. Do not write unnecessary information; just write down the methods used by use to reach the outcome.
Step 4. Answer the questions related to research
The following questions answers must be present in your abstract. These are must-answer questions that the reader would be going to seek in your abstract. They are:-
The primary purpose of your research work?
Why is it necessary to carry out the research on your topic?
The process you follow to reach the final outcome?
What did these results mean to you?
And what answers do readers get from your project?
How did you reach the final conclusion?
How will readers get the answer to their questions?
Answers to all these questions must be written in your abstract. After knowing the answers to all these questions in your abstract, the reader will feel satisfied, and he will further want to read your whole project with great interest.
Step 5. Exclude irrelevant information
As at this level of this handout, it is very much apparent in your mind that the length of the abstract would not be too long. So for a precise length of your abstract, read it from top to bottom with concentration. Then eliminate the points you think are not as relevant and is only increasing the length of your abstract. Do this 2 or 3 times to remove the extra points you have written in your abstract. It will make you're abstract shorter in length and more descriptive. As more precise and descriptive, your abstract will be, would be going to attract the readers and increase the interest of the readers in your research work.
Step 6. Review the abstract 
It is a significant step, as students are very less aware of it and sometimes just skip this step. In this step, you are again going to read your abstract thoroughly. This time you are not going to exclude any extra points and check the consistency of information. In this step, you are going to review your grammar mistakes, spelling mistakes, sentence structure, and symbols and abbreviations (if used).
Students must keep in their mind that, never submit their work of any type without performing this step. Because nowadays, students are too much active on social media, so it becomes prevalent for them to use short forms and symbols. Using short forms or symbols and grammar and spelling mistakes in your paperwork leaves a wrong impression on the reader's mind. So always perform this step for both your research work and abstract.
Now, after all your hard work and efforts, your paper works along with the abstract is ready. The abstract is error-free, informative, descriptive, concise, precise, and complete. Now your summary is prepared along with your research work to submit to your professor.
Get professional help For Abstract writing from My Research Topics
Even though it seems natural to write an abstract, in actual it isn't. To get an informative abstract for a research paper, college students can also take the help of experts. Professional academic writers of My Research Topics are available round the clock (24*7) to serve their clients. Our pocket-friendly services for the students help them invariant subjects.
Students can freely ask the experts for help if they are not satisfied with their service. Our all experts are highly qualified and efficient enough in their work to deliver their service even before the more stringent deadline. If for any reason, the student is not able to complete his work and is left with much less time, then also you can hire the experts and submit quality work to your professors.
We never compromise with the quality of our service and treat every client with unique and best possible content by doing proper research to collect the data. You can quickly free yourself from the stress of incomplete work. And amaze your supervisors with the best idea and content for any of your academic paper writing.
Conclusion
From the abstract only, your readers should be able to understand the basic concepts of every aspect of your research work. It is so that they can decide whether the paper will serve its purpose or not. Hence you should try to keep your abstract as attractive and readable as you can.
Try to cover every possible aspect, along with the thesis statement in your abstract in a concise manner by keeping in mind the type of your readers. You can also check some sample abstracts for paper presentations if you are facing any kind of trouble.
Read Also: Discourse Analysis Research Methodology – Meaning, Uses and Procedure